Reversible Cast Iron Griddle

Our cast iron griddle has two sides to it which will enhance the way you cook your food. One side is ridged to give your food a seared/stripy finish and the channels on the sides will drain away excess fat. Many people find that the griddle is a more efficient way of cooking and you will find that the large surface distributes the heat evenly.
What is the griddle made of?
Our Griddle is made from heavy, durable cast iron that is built to last a lifetime so you can be sure that you will get many happy years of cooking from the griddle. As well as this, you will find that the other side is flat so you can use it as a hot plate for cooking, so you can cook anything from eggs to scotch pancakes. The griddle is hard-wearing and will heat up quickly. In addition, you will love how easy the griddle is to set up, use, and clean. Storing the griddle is really easy and it won't take up much room in your cupboard.
Due to the properties of cast iron, you can use the griddle on:
Induction Hobs
Electric & Gas cookers
AGA / solid top cookers
BBQs
Ovens
Under the grill
You can also take it on your next camping trip and use it on a camping gas stove
When using on Induction Hob/Stovetop: Always check with the manufacture before using cast iron. When using on induction follow the seasoning routine on every use and slowly bring the griddle/pan/skillet to temperature. If heated too quickly it may crack.
Cleaning your cast iron griddle
The griddle is incredibly easy to clean, all you need is a wire brush and hot water. It is not recommended for dishwasher use or using a detergent for cleaning.
Dimensions
Overall Size inc Handles 40cm x 25cm
Cook Area Size 30cm x 23.5cm
4kg
Customer Reviews
09/20/2021
Joyce L.

United Kingdom
This was a birthday gift for my son and he loves to use it on his outdoor barbecue. Cooks beautifully. I found your delivery service superb. Thank you.
09/22/2021
Black Rock Grill
So great to hear the present was a successful one! Thank you for taking the time o review. Have a great day! BRG team
09/10/2021
Mark P.

United Kingdom
Nice reversible griddle
I ordered the smaller one by mistake and exchanged this for the larger one. very helpful staff with very good communication. Good quality griddle very pleased with it
09/13/2021
Black Rock Grill
Great to hear! Thank you for taking the time to review☺
09/02/2021
Chris G.

United Kingdom
Griddle plate purchase
Item was exactly what I expected, delivered a day early. Used it to BBQ some delicious food. Very happy with the purchase and service.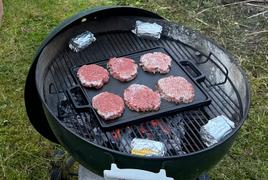 09/02/2021
Black Rock Grill
Great to hear and thanks very much for the images, the griddles do go great with a BBQ. Let's hope we get a lovely Indian summer and have a few more days of BBQ weather this year! Happy grilling. BRG team
07/15/2020
MISS E.

United Kingdom
Excellent
First time buying from Black Rock Grill- excellent customer service, competitive pricing and fantastic quality of product. Will definately be buying from you again, thank you.
07/15/2020
Black Rock Grill
Thank you very much for your lovely review. Happy sizzling! BRG Team.
06/05/2020
Jeremy N.

United Kingdom
Excellent product; good price; quick delivery.
Works well on the barbecue or induction hob.
06/08/2020
Black Rock Grill
Many thanks for your review. Very valuable to us. Happy Grilling! BRG Team