Black Rock Grill Sharing Steak Stones Grill Gift Set
Giving a Sharing Stone Grill Gift Set will bring lots of laughter and fun while dining with friends and family.

This Black Rock Grill Sharing Steak Stones Gift Set is the perfect way to enjoy the benefits of hot stone cooking with friends. Bring laughter to your table as the sharing stone sizzles your steaks just the way you like them.
Fantastic for a prime fillet steak and fries, ideal for rump, sirloin, and rib-eye and sensational for salmon, tuna and swordfish, the dry heat of the black rock sears in the natural juices & flavors of your chosen cut.  Therefore, there is no need for oils or fats, making it a fresh, fun and healthy way to cook.
Key Features:
Large sharing rock ideal for 2-4 people, cook a selection of meat, seafood & vegetables
Unique and elegant bamboo frame will elevate your rock in the centre of the table, a great statement piece at the dinner table
Two stainless steel fondue burners sit underneath the rock and run off fuel gels, they will extend the cook on the rock
Each diner will be able to cook to their liking
Hot to the last bite! 
Tramontina jumbo steak knives to glide through your meat
Handle the hot rock with easy with our heat resistant gloves
One pack of fuel gels that sit inside the stainless steel fondue burners
How To Heat in a Restaurant-  
Commercial Restaurants we strongly recommend our professional systems as these provide the simplest, most compact way of heating large numbers of black rocks at a time. Our Ovens are built for purpose and heat the rocks to the recommended temperature of 440c / 824f. 
What is included:
Bamboo frame (48cm x 20cm x 13cm / 18.8in x 7.8in x 5.1in)

Cooking Stone (37cm x 19cm x 3cm / 14.9in x 7.4in x 1.1in)

Stainless Steel Under Plate

2 stainless steel burners
4 Tramontina Steak Knives
Pair Heat resistant gloves
3 Heating gel pots 80g
Instructions
Weight 12kg
*this item is only stocked in the United Kingdom. Shipping will be an international rate. Alternative / similar product stocked in United Stated and Australia:  Steak Stone Sharing Set
Customer Reviews
05/08/2021
Stefanie L.

United Kingdom
Brilliant gift idea
Excellent, bought as an anniversary gift for family. Friendly and professional, instant reply to my question, arrived quickly. Thank you
05/10/2021
Black Rock Grill
Great to hear that you have been happy with the service and gift for your family, we really appreciate the review. Have a great day
02/27/2021
Bryony B.

United Kingdom
THE Best lockdown birthday dinner
Thankyou so much for making my sons 13th Birthday dinner so special. We have had hot stone steak in restaurants in Barcelona and Portugal and they have been 2 of the most memorable meals we've had especially for our 'foodie' son, we knew if he could he would repeat the experience for his birthday so as lockdown meant we couldn't go out to eat we searched for a hot stone to use at home. So so happy we chose Black Rock Grill. Delivery was super fast and the kit is well priced and looks nice too! We have literally just finished our sons Birthday Dinner and I haven't even finished clearing the table before writing this review.... it was a huge success the children 13 and 10 enjoyed cooking on it so much as did we, it's the first time ever we have sat at the table just the four of us for well over an hour... usually everyone eats and hurry's away to different rooms and everyone said that even though it wasn't in a restaurant it was one of the best most enjoyable meals they have ever had! My only advise is instructions on how to use the chaffing fuel needs to be included in the box as I had to search for instructions on the website. Thankyou for making our sons 13th birthday so special during such weird and difficult times!!!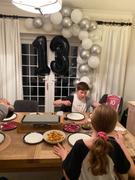 03/01/2021
Black Rock Grill
Thank you very much for taking the time to review and sending over such a great photo of the set in action! So pleased to her your son has a great birthday meal :) Black Rock Grill defiantly keeps everyone chatting away at the table, very social able way of dining. Happy sizzling! BRG Team.
12/27/2020
Kim B.

United Kingdom
Christmas gift
Ordered as a Christmas gift and was very well received. Nicely made and big enough for several people to use. Excellent delivery and well packaged.
12/29/2020
Black Rock Grill
Thank you for your review, Very valuable to us. Happy sizzling! BRG Team
10/01/2020
David W.

United Kingdom
2nd purchase
Bought second sharing set as a present. Both are great quality an great service from Blak Rock Grill
10/02/2020
Black Rock Grill
Thanks ever so much for the review. Very valuable to us! Happy sizzling!
08/05/2020
Andrew T.

United Kingdom
Black Rock grill set
overall its very nice. The stone is pitted so its a bit of a job to clean. It cooks the meat, you need the burners underneath.
08/05/2020
Black Rock Grill
Many thanks for your review. BRG Team