Black Rock Grill Steak Stones Sharing Set

Another one of our Top Sellers the Black Rock Grill Steak Stone Sharing Set.
Enjoy the experience of cooking your food exactly as you like it, live at your table.
This Black Rock Grill Steak Stone Sharing Set is the perfect way to enjoy the benefits of hot stone cooking while sharing with up to 3 of your friends, so get the Black Rock Grill out for the best steak night ever! 
Key Features:
Large sharing stone ideal for sharing in the centre of the table, for up to 3 people

Compact bamboo board for easy storage

Easy to heat up and clean (see link below for full instructions and requirements) 

No oil or fat used making meals healthy
How To Heat in a Restaurant-  
Commercial Restaurants we strongly recommend our professional systems as these provide the simplest, most compact way of heating large numbers of black rocks at a time. Our Ovens are built for purpose and heat the rocks to the recommended temperature of 440c / 824f. 
View our Trade & Restaurant Range Here>
What's in the Box:
Bamboo Board ( 44cm x 27cm x 3 cm / 17.3in x 10.6in x 1.1in)

Cooking Stone (37cm x 19cm x 3cm / 14.9in x 7.4in x 1.1in)

Stainless Steel Under Plate

Instructions
Weight 9kg
Customer Reviews
11/13/2021
Gerald

United Kingdom
Best steak I've had at home
Delighted with my new sharing stone. Those were the best steaks I've ever had at home, every mouthful perfectly cooked as you like it!
11/17/2021
Black Rock Grill
Awesome, so glad you love the sharing set! We do agree the steaks taste amazing on the stone, we cant eat steak any other way now! The photos look great, thanks for taking the time to review, have a great day! Kind regards, BRG team
02/11/2021
Michelle G.

United Kingdom
Black Rock Sharing Set
This is an amazing product! Heats up in over over around 50 minutes and then take to table and put meat on to cook to your liking at the table. Steak was delicious! Quite impressive for a dinner party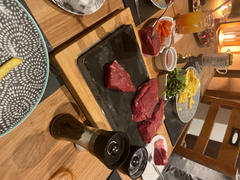 02/11/2021
Black Rock Grill
Thanks very much for taking the time to review, very valuable to us :) What a great photo, looks delicious! Happy sizzling. BRG Team.
01/14/2021
Sarah M.

United Kingdom
Black Rock Grill Steak Stones
We have yet to use this product as they are a Birthday present for my husband, but I can highly recommend the company. My first order DHL lost or sent to the wrong address but Louise kindly got in touch and sent out a replacement which I received yesterday. They have been so helpfully and my parcel arrived well packaged. I'm even contemplating giving my husband his presents 2 weeks early as can't wait to use them. Will update again once we have used our steak stones. Many Thanks will definitely be buying more bits off your site to add to our collection.
01/14/2021
Black Rock Grill
Glad they reached you. Thanks for taking the time to review, very valuable to us. Happy sizzling :) BRG Team.
05/01/2020
Kathleen B.

United States
Love it
We love using the hot rock for dinner. It's always fun and my husband can cook his steak medium and I can cook mine well down. My only fault is that I wish the rock would stay sizzling a little longer. We first tried hot rock cooking on a cruise ship and those rocks seem to stay sizzling for a long time. Despite that we are very happy with our purchase. We will probably buy another one for dinner guests.
What a brilliant way to cook steaks
Everything worked as they say on thee website. The only issue was the meat stuck on the slab slightly but next time we will use some **** seed oil which should do the trick.