Lava rocks have many uses and benefits that people are starting to see.
BBQ Lava Rocks
When lava rocks are used in barbecues, they reduce fat fires whilst enhancing the smoky flavour of a delicious barbecued meal. Just make sure that you replace clogged up rocks with a fresh new layer of lava as this will
improve the heat distribution
Improve the heat of the cook
Use less gas
Get rid of any nasty smells
Reduce flare-up
Chimineas and fire pits using Lava Rocks
Using lava rocks in a Chiminea insulates and protects. It is simple to do, just place a layer of rock into the pot belly of the chiminea and then build your fire on top. This protects the clay from direct heat and adds another layer of insulation to generate more heat from your chiminea. The rocks can also be used in a smoker, check out The Smoker Guy's website for more information.
Lava rocks are fantastic in fire pits. Functionally, fire pit lava rock provides a semi-permeable barrier that protects fire pit burner components from the elements, facilitates the even distribution of flame and the resulting heat, and shields the gas burner from direct exposure to the surface flame.  Cosmetically, lava rock is a clean, low-maintenance, durable, and natural-looking fire pit surface media that retains its natural colour under a combination of high-heat and potentially harsh weather conditions.
Lava Rocks Mulch on the garden

In addition, they can also be used in the garden as mulch. The lava absorbs the heat during the day and releases it at night and is excellent for weed suppression. It also slows the evaporation of moisture from your soil. Lava Rocks are available in Ton bags by request, Please get in contact for a quote: sales@blackrockgrill.com
Aquarium Lava Rocks, Using in ponds and fishbowls
The rocks are also ideal for freshwater ponds, aquariums, and fishbowls as it helps to remove Nitrates and improve the quality of the water. They are also very decorative.
Dimensions of the lava rocks
Each rock is between 6 - 9cm/60mm - 90mm (may vary)
Customer Reviews
07/28/2021
REESE L.

United Kingdom
Fast service and good quality
Bought this lava rock for my fishtank. Have used it in the filter and as decoration; it looks great. Would use this company again.
07/29/2021
Black Rock Grill
Thanks for the review, it really means a lot, and thanks for the images. The fish tank looks awesome! Have a great day! BRG Team.
06/23/2021
David C.

United Kingdom
BBQ coals
Great. The lava coals arrived within a matter of days and we're quality lava rocks. I'd read about other similar products available via Amazon which had been disappointing so took a chance with Black Rock Grill. Very happy I did.
06/25/2021
Black Rock Grill
Thank you for taking the time to review, we always check the Lava rocks are quality and remove any that do not meet the standard before shipping to our customers. Have a great day!
05/21/2021
Sean B.

United Kingdom
Great lava rocks
The lava rocks are great on my home made fire bowl. I only wish there was an in between size at 40-60mm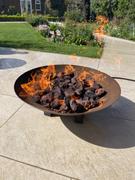 05/21/2021
Black Rock Grill
Hi, Thanks for taking the time to review. We currently have Lava rocks at 40-60mm in stock. please see the link for details https://www.blackrockgrill.com/collections/cookware-tableware/products/lava-rocks Have a great day. David BRG team
04/19/2021
Kevin L.

United Kingdom
Fast shipping and very helpful staff.
04/10/2021
Justyna D.

United Kingdom
Excellent
The lava rock looks beatiful in my fish tank. Excellent value for money.
04/12/2021
Black Rock Grill
Thanks for the review, it means a lot David BRG team