Black Rock Grill Big Sizzling Steak Stones Platter Set
Our big sizzling steak stones platter set is designed for serious steak lovers! Its large surface allows large cuts of meat to be cooked live at the table.
Tomahawk, Porterhouse, Chateaubriand to name a few.
The wooden board is made from sustainable bamboo and is designed to last, you will love the quality of the wood, it really gives the product a feel of luxury
Key Features:
Large Steak Stone for the larger cuts of meat, fish, poultry & vegetables allowing you to create some really exciting dishes
Compact Bamboo board, leaving the table plenty of space for side dishes & easy storage

Easy to heat up and clean (see link below for full instructions and requirements)

Hot to the very last bite

Allows each person to cook their meal to their liking. Cooked to perfection every time
How To Heat in a Restaurant-  
Commercial Restaurants we strongly recommend our professional systems as these provide the simplest, most compact way of heating large numbers of black rocks at a time. Our Ovens are built for purpose and heat the rocks to the recommended temperature of 440c / 824f. 
View our Trade & Restaurant Range Here>
What's in the box:
Bamboo Board (37cm x 27cm x 3cm / 14.5in x 10.6in x 1.1in)

Cooking Stone (21cm x 19cm x 3.2cm / 8.2in x 7.4in x 1.2in)

Stainless Steel Under Plate

Instructions
Weight 6kg
Customer Reviews
01/01/2022
Denise M.

United Kingdom
Big sizzling stone platter
Absolutely outstanding customer care. My stone was lost by the delivery company before Christmas. Contacted Black rock team and spoke to a lovely gentleman who spoke to someone else in the team and my platter was sent out that day. The last day for Christmas delivery. The whole company went above and beyond to make sure I got my delivery and even rang me to explain what they had done. I cannot thank the whole team enough. Would definitely recommend this company and the sizzling platter is amazing.
01/06/2022
Black Rock Grill
We really appreciate you taking the time to review, we will always do our utmost to ensure that our customers receive their orders. Happy sizzling !☺
12/15/2020
Jodi G.

United States
Gift
It's a Christmas gift, so I couldn't even tell you what it looks like.
12/15/2020
Black Rock Grill
Thank you for your review. Much appreciated. Beautiful Christmas gift :) BRG Team
11/19/2020
Carol F.

United Kingdom
Sons Birthday Present- Fantastic!
I brought it as a present for my sons birthday on his request. He had in September been to I think The Anchor in Dymchurch ordered one of their steaks & stated the best steak he had ordered. He asked his in laws for something from your collection & this was what he wanted from me. Hence buying & he has end of September moved into his 1st brought house. I am looking forward to trying it once restrictions have lifted due to his enthusiasm towards your product. My partner is a vegetarian so is this also good for fish. Many thanks
11/19/2020
Black Rock Grill
Many thanks for your review! Much appreciated and hope you get the chance to sizzle on the rock too :)
10/05/2020
Doug L.

Canada
Amazing
Far more superior than the competition! Best steak I have ever had! Thinking they would make excellent Christmas presents for the kids.
10/05/2020
Black Rock Grill
Thanks very much for the lovely review. Oh they make fantastic Christmas gifts, something a little bit different and will give the whole family years of fun at the table! Happy Sizzling! BRG Team
07/01/2020
Mark H.

United Kingdom
Love it, great way to cook.
Always wanted a steak stone so as we were having a dinner party we bought 4. We used one stone per couple cooking two fillet steaks on each and they worked a treat.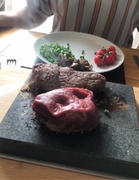 07/02/2020
Black Rock Grill
Yum looks delicious! Many thanks for your review, much appreciated. Happy sizzling! BRG Team