Black Rock Grill Steak Stones Cooking Set - Now in Matt Black!
This Black Rock Grill Matt Black Steak Stones Cooking Set is the perfect way to enjoy the benefits of hot stone cooking our individual platters make a simple dinner party sizzle either indoors or out, with each guest having their own unique meal experience.
The hot rock cooking concept is fantastic for dinner parties, events, family meals, or a great alternative to a BBQ. A wide range of produce can be cooked on the rocks. Steaks, burgers, ribs, seafood, poultry, vegetables. The rock will give a unique and juicy flavour to all meals. The extreme heat of the rock will sear in all the natural juices and will keep food hot till the last bite!
Key Features:
A sizeable wooden board to serve with dips/ sauces, side salads, and chips
Our NEW matt black range of porcelain dipping pots and side plate
Super easy to heat and clean (see link below for heating instructions)
No oil or fat is used in the cooking process so its an extremely healthy way of dining 
We advise one hot stone cooking set per person for this design set
Ideal for starters, mains, and desserts (check out our recipe page  for inspiration)
Cook your meal live at the table
Every dinner guest can cook to their perfection, sizzling hot till the last bite!

How To Heat in a Restaurant-  
Commercial Restaurants we strongly recommend our professional systems as these provide the simplest, most compact way of heating large numbers of black rocks at a time. Our Ovens are built for purpose and heat the rocks to the recommended temperature of 440c / 824f.  
View our Trade & Restaurant Range Here>
What is included?
Premium wooden board (44cm x 27cm x 3cm / 17.3in x 10.6in x 1.1in)

Cooking Stone (20cm x 13cm x 3cm /  7.8in x 5.1in x 1.1in)

Stainless Steel Under Plate

Matt Black porcelain rectangle plate (20cm x 11cm x 2cm / 7.8in x 4.3in x 0.7in)
3 Matt Black porcelain dipping pots (17.5cm x 8cm x 2.5cm / 6.8in x 3.1in x 0.9in)
Weight 6kg
Customer Reviews
02/07/2021
Melissa D.

United Kingdom
Cooking Set
Bought two cooking sets, they are fantastic and made for a very different dinner at hone. We are thinking about getting another two for guests - only concern being how we would heat these on the hob and prepare sides as our oven doesn't reach 280 degrees required to heat in the oven.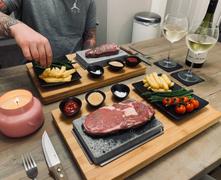 02/08/2021
Black Rock Grill
Thanks for taking the time to review, very valuable to us. Photo looks delicious. If you want to use the hob for cooking sides you can pop the stone under the grill instead :) on top shelf on high for 30-40 minutes :) Happy sizzling.
12/19/2020
keith p.

United Kingdom
Brilliant Idea.
The item arrived on time and was packaged really well, the product is lovely and of good quality.We have used it at the weekend as a special dinning experience I first come across this cooking method in the Isle of Man and this product performed just as well really excellent would recommend to anyone superb!
12/22/2020
Black Rock Grill
Many thanks for the review. Very valuable to us. Happy sizzling! BRG team.
12/17/2020
Diane P.

United Kingdom
Steak stones
Haven't used item yet. Looks great quality. Experienced this in a restaurant. So looking forward to using and I don't think i will be disappointed. What an absolute treat to have these at home. Such a showstopper!!!
12/18/2020
Black Rock Grill
Many thanks for your lovely review. Very valuable to us. Happy sizzling, enjoy! BRG Team