Horticulture, Aquascaping Lava Rocks
Perlagro Lava rock is a great media for drainage and water retention.
Lava rock has neutral Ph. It can be used many times at hydroponic culture after washing.
Lava Rock Usage in Agriculture Industry:
In land reclamation
In plant cultivation in less soil or soilless environments
In agricultural – green areas with limited water feeding.
Hydroponic & Aquaponic Growing Systems
There is no weed problem. Thermal temperature control around the root equally keeps it from growing, protects it from heat and cold. Keeps the oxygen rate high around the root. Provides healthy root formation. This provides the plant to grow more vigorous. It is useful for water economy, prevents evaporation of water, creates low energy costs. Provides higher quality water to the roots. It provides faster growth of microorganisms that make the nitrogen in the soil water-soluble so that the plant can take it. Long-lasting structure (arrangement of soil grains) Resistant to insects, fungi and plant diseases. It does not contain any toxic substances to plants, It is homogeneous, easy watering Low salt content Having a certain cation change  It is very rich in chemical minerals. Can be used over and over again
Aquarium lava rocks are volcanic natural substrate for aquascaping aquariums.
Highly porous volcanic rock
The highly porous volcanic rock has various tasks in an aquascaping aquarium: First, it provides a stable base for further constructions of stone and / or wood (roots), which would slip further down through the soil. On the other hand, many beneficial bacteria settle in the porous structure, contributing to a positive water environment. Furthermore, the porous rock structure provides a good penetration of nutrients and provides many minerals, allowing plants to root and grow very well.
30 Litre bag
Weight: 22kg
Rock size: 1-3cm approx
100% Natural
Ph Neutral 
Customer Reviews
07/03/2021
Mark S.

United Kingdom
Excellent service and product
Swift service, great price for a great product!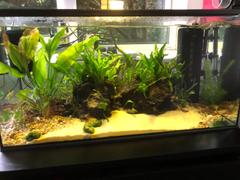 07/06/2021
Black Rock Grill
Thanks for the photo, and review your fish tank is looking great! We also sell larger lava rocks - up to 9 cm in size that look great, whilst removing nitrates in your tank and improving the water quality. All the best David BRG team
06/11/2021
Krzysztof W.

United Kingdom
Great Products and Reasonable Prices
It was shipped fast, the packaging did not allow damage. If you need substrate for your fish tank this is what you need to start. Just be aware of chunk size. No complaints.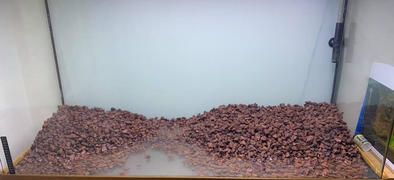 06/11/2021
Black Rock Grill
Looking good! thanks for the review would love to see the fish tank once you have finished the project. Have a great day
05/23/2021
Mike N.

United Kingdom
Lava rock
Great lava rock for propane fire pit used about a third of the bag in a large tray/burner great price and quick delivery quality service from black rock grill
06/02/2021
Black Rock Grill
Thanks for the review, much appreciated.
05/17/2021
Roger L.

United Kingdom
Looks like a viable alternative
Bought this to use as a substrate in an aquascape I am planning. I was looking for JBL Volcano Mineral substrate but it has been out of stack across the UK since last September. Technically this looks a viable alternative although the granule size is much larger (JBL is 4 - 8mm) however the judicious use of a lump hammer and some seiving should resolve that. Twenty kilos is much more than I need but it may come in useful for the garden. Perhaps producing a product of smaller particl size and perhaps bags of 5 and/or 10 kgs is a new market opportunity for Black Rock? The Aquascape sector is really struggling to get something to match JBL
05/18/2021
Black Rock Grill
Hi Rodger, Thanks for taking the time to review the product and your suggestions of a new opportunity for the Lava rocks. This is something that is being discussed currently and hopefully another product in the Lava rock range will be added soon that fulfils the Aquascape sectors requirements. I hope you have a great day. Regards, David
04/22/2021
Ghislain M.

United Kingdom
Horticulture Lava Rocks- 30 Litres
Excellent product, really well packaged. I used it in my aquarium. Still have plenty left for use in the BBQ! Really excellent value. Amazingly low price, a triple bonus! Highly recommended.
04/23/2021
Black Rock Grill
Thanks for taking the time to review! We hope you have a great day. BRG team.