Black Rock Grill Sharing Steak Stone Grill Set

If you're planning a steak night or a dinner party then you need one of the Black Rock Grill Sharing steak stones grill set. You and your guests will love the unique experience that comes with cooking on a hot rock.

Plan the ultimate steak night for your friends!
And you will love how easy it is to set up, cook and clean up afterwards. So You will have more time to spend with your guests as you are not in the kitchen cooking or cleaning up afterwards. And there is no need to rush eating the food, as the burners underneath the stone will keep it hotter for longer. In other words, you will run out of meat before you run out of heat!
This Black Rock Grill Sharing steak Stone Grill Set is the perfect way to enjoy the benefits of hot stone cooking with your friends and family. And everyone will love being able to cook the food to their preference. 
Don't forget, you will need the gels to go in the burners. You can buy the gels here. Please note these are not included in the Sharing stone grill set.
Key Features:
Large sharing rock ideal for 2-4 people, cook a selection of meat, seafood & vegetables
Unique and elegant bamboo frame will elevate your rock in the centre of the table, a great statement piece at the dinner table
Two stainless steel fondue burners sit underneath the rock and run off fuel gels, they will extend the cook on the rock
Each diner will be able to cook to their liking
Hot to the last bite! 
How to use the Sharing Steak Stones Grill Set:
How To Heat in a Restaurant-  
Commercial Restaurants we strongly recommend our professional systems as these provide the simplest, most compact way of heating large numbers of black rocks at a time. Our Ovens are built for purpose and heat the rocks to the recommended temperature of 440c / 824f. 
View our Trade & Restaurant Range Here>
 What's in the Box:
Bamboo frame (48cm x 20cm x 13cm / 18.9in x 7.8in x 5.1in)

Cooking Stone (37cm x 19cm x 3cm / 14.9in x 7.4in x 1.1in)

Stainless Steel Under Plate

2 stainless steel burners
Weight 10kg
Customer Reviews
06/25/2021
Zeyn A.

United Kingdom
Great Product, lots of fun, works and produces tasty meat.
I have purchased this product three times and I have even given them as gifts to my friends. You should know the following: a) The best combination to buy is with the burners and a good sized stone. b) The product produces the tastiest meat out the hot rocks being sold online. I have a few different versions. c) Heat this product for at least 30 minutes in an oven at 250 degrees and transfer to the serving area immediately, with the burners on in the specialised platform. d) They will cook for you, if the burners are working for over an hour, with the centre areas being where most of the coking happens. e) Apply salt to the meat well in advance of cooking and not while cooking. f) Slice your meat to the width of your little finger (average-sized male hand). g) Be careful when re-filling the fuel burners, if you go past minutes. Place the handles AWAY from you in the platform, for safety reasons. Be careful leaning over to get them. Wear the gloves. h) Buy the gloves, they work and are a necessity in my opinion. i) When cleaning the stone let it cool completely. Run hot water and place it under the hot water and scrub away using a normal dish cleaner. DON'T leave them under the tap for too long. Take it out, let it air dry for the day. j) Re-season it - simply put the rock in the oven, THEN start the oven and set it at 100 for 20 minutes and then 200 for 10 minutes. This gets all the moisture out and you can then let it cool down take it out and store for when you want to use it. Great product, lots of fun and actually works really well. The people selling them here in the UK are also very reliable and helpful and will go out of their way to help you. I was not paid, solicited nor coerced into writing this review. Get one or a few, invite your friends over and you will experience what we all have.
06/25/2021
Black Rock Grill
Thank you very much for taking the time to review. Much appreciated. Happy sizzling with your next cook! BRG Team
03/17/2021
Derek H.

United Kingdom
Birthday present
Excellent service, easy to order on line, delivery on time and product quality superb. Looking forward to impressing friends at the next BBQ. Will be purchasing more products and accessories soon.
03/17/2021
Black Rock Grill
Thanks very much for taking the time to review. Much appreciated and very value able to us. Happy sizzling! BRG Team.
01/17/2021
Bill

United States
Delicious meals every time
I generally do not write a product review unless the product and or customer service exceeds expectations. We have been using the grill set- purchased 4 for about 12 years - seriously. The food is always delicious but most importantly we have many memories with family and friends while grilling. It is a great way to get kids and friends involved with cooking and the conversations follow. I'm always asked "where did you get these" Great product and great service !
01/18/2021
Black Rock Grill
Thank you very much for your review. Very valuable to us. 12 years wonderful! Happy sizzling. BRG Team.
01/04/2021
Joanne B.

United Kingdom
Black rock stone grill
I would have marked this as excellent as the quality and look of the grill is excellent. We have used it and are very impressed. Where I have marked it down is around the instructions for the heat, specifically around how to light, what fluid/gel is required. I have had to research this separately and it's a shame this is not sold as part of this. Service from the company is excellent too.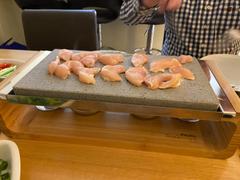 01/04/2021
Black Rock Grill
Thanks very much for your review, looks delicious! The fondue fuel gel we sell on our website too or we sell it as a gift set with the cooking stone. Till Brennpaste. BRG Team
12/30/2020
Jacqueline J.

United States
WOW!
I saw the Black Rock stone advertisement and had to have this magical cookware. The ordering process and cooking experience did not disappoint. I've tried the salmon, steaks, and veggies on it. The flavor was amazing. You will be hooked on this item. I recommend buying the heat gloves due to the high temperature of the stone (otherwise will not be able to handle it). LOVE IT!!!!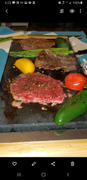 01/04/2021
Black Rock Grill
Thank you very much for the lovely review. Reviews are extremely valuable to us so thank you for taking the time. Great photo, happy sizzling! BRG Team.